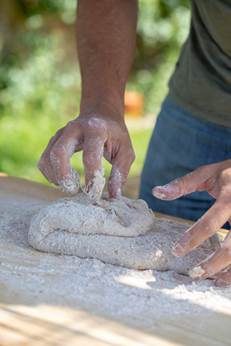 Slow Food in Tuscany
Enjoy a Rustic Chic Retreat at Follonico, Tuscany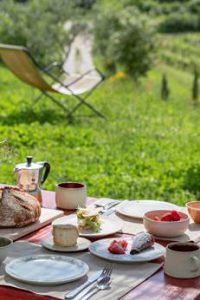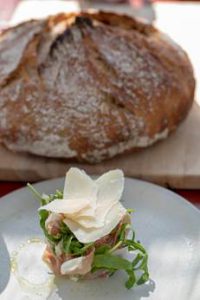 Set amidst the rolling hills of the Val D'Orcia in southern Tuscany you will discover Follonico. An enchanting B&B offering an authentic and unique Tuscan experience. A family owned, country house, surrounded by organic gardens, vineyards and farmland, Follonico offers the perfect antidote to the frenetic 21st century lives, many of us lead.
A restful haven, far from the hustle and bustle of the city, Follonico offers that elusive 'feel good factor' in bucket loads. Lovingly restored from a state of ruin, this beautifully designed, stone-farmhouse, magically embraces the traditional Tuscan culture all around it, whilst also conveying a fresh sense of contemporary style. Honouring the property's heritage, Follonico remains rich in original architectural features which are offset by striking design-led furnishings. The effect is both vibrant and heart-warming. If the Italian language had a term for 'Hygge' it would be Follonico. It's simple, pared down atmosphere, naturally encourages guests to breathe more deeply and, enjoy a slower pace of life.
Follonico is the perfect destination for those travellers looking to experience authentic Italy. Guests are encouraged to slow down, take it easy, and to do just a little less. The simple pleasures of Tuscan life are at the core of the Follonico experience. Fresh fruit from the orchard, organic eggs from the free-range hens, award-winning 0km wines and home-baked sour dough bread all help revive the spirit and restore the soul.
During a stay at Follonico, why not scratch the surface a little further and reveal yet another level of Tuscan lifestyle with some creative activities:
Cooking Classes – Are held by Suzanne and Fabio in their family kitchen, here you can
discover the secrets of the Tuscan kitchen. Using fresh organic ingredients harvested from Follonico's gardens, discover the joys of simple Tuscan cooking.
Wine Tasting – Ask Fabio for his personal recommendations of which local vineyards to visit. He can organise a wine-tasting experience at one of the nearby vineyards followed by a seasonal lunch.
Harvest Time – In the autumn months, the land around Follonico is a-buzz with activity. Why not get some hands-on experience with the olive harvest or grape-picking? For foodies, truffle hunting and mushroom picking excursions can be arranged with a local guide.
Lazy-Days – If you simply want to sit back and relax in the peace of the garden, then why not arrange a fresh picnic lunch. A delicious, seasonal picnic can be ordered the day before and set up for you in a comfortable spot in the garden.
Follonico is owned and run by husband and wife team Fabio Firli (Italian) and Suzanne Simons (Dutch) who both lovingly restored the property. They welcome guests into their beautiful Tuscan home throughout the year and have created a true haven of tranquillity, offering a 'new breed of Bed & Breakfast' experience.
Fabio's Rustic Breakfast Bread Recipe
For the starter
200 grams organic wholegrain flour
200 ml warm water
For the main dough
100gr Mother's Yeast or fresh organic yeast
800grams wholegrain organic flour
480ml water
10 grams salt
Combine the starter flour and water in a large mason jar and leave to rest in a sunny spot for at least 4 hours turning upside down every 30 minutes.
After 4 hours pour into a very large bowl and add slowly add the other ingredients bringing them all together with your hands, work the dough until it all comes together well.
Let the dough rest for another 4 hours, turning it upside down every 30 min (without kneading it) After the 4 hours fold it and shape it into a bread shape and let it rest in the fridge another 4 hours in a basket covered in linen cloth (a tea towel will do) "infarinato".
Heat your oven to 200°, now gently tip the dough onto a floured metal tray and make deep cuts with a sharp knife on the top of the dough. Now Bake for approximately 1 hour. You could also make 3 smaller loaves if preferred and reduce cooking time to 30 mins.
Enjoy with fresh ricotta and millefiori honey for an authentic, rustic Tuscan breakfast.
www.follonico.com