Neptune launches new bar menu and announces the return of Oyster Happy Hour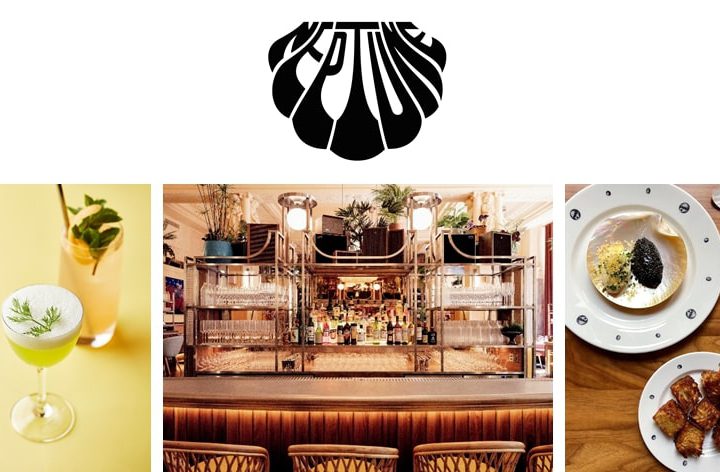 Neptune launches new bar menu and announces the return of Oyster Happy Hour
Neptune, the highly acclaimed seafood-focussed restaurant from Brett Redman and Margaret Crow in the heart of Bloomsbury, are set to launch their bar with a new drinks & snacks menu from Thursday 20th September. To coincide with this, the team have also announced the much-anticipated return of Oyster Happy Hour, which gained fame from the pair's first restaurant, The Richmond in Hackney.
Since opening in May, the second restaurant from the dynamic duo has attracted much attention from the public, media and industry alike, becoming known for its refreshing twists on classic seafood dishes. The 33-seater bar space is an extension of this, offering a relaxed space for a pre-dinner cocktail or a quick snack in the evening.
Brett has devised a succinct bar snack menu, using some of his favourite ingredients to create new small plates such as 'Celery and Caesar Dressing' (£7), 'Mull Cheddar Cheese Puffs' (£5) and 'Hot Buttered Crab Roll' (£7). These will be joined by firm house favourites including 'Caviar with Hash Browns and Crème Fraiche' (£20) and the 'Beef Dripping Fries' (£4). In addition to the new bar snack menu, every day from 6-7pm, Neptune will offer an 'Oyster Happy Hour' where all oysters will be offered at half price (starting from £8 for a ½ dozen) and can be paired with a featured bottle of grower champagne, chosen each week and served at bottle shop price.
An eclectic but tailored range of aperitif-style cocktails have been developed to be enjoyed alongside the bar snack menu and oysters. Classic serves will be joined by original and punchy Neptune concoctions such as 'Nepotism', a gin and mezcal creation served straight up with lime, agave, sugar snaps and dill, as well as other inventive tipples like the 'Elysium Fizz', with gin, pear, bamboo, lime and Brazil bitters.
For those in search of wine, Neptune's bar will share the same low-intervention ethos as the restaurant. The impressive list is exclusively curated by Wine Consultant Isabelle Legeron, the world's foremost authority on natural and low-intervention wines. Her carefully chosen list is inspired and influenced by the sea, and all organically produced. A concise menu of grower Champagnes and sparkling wines will always be available, as well as a rotating selection of selected wines by the glass.
Situated at the front of the restaurant, the bar has the same unique design curated by Margaret and Russell Sage Design, with peach walls adorned with plants. Mustard yellow bamboo framed bar stools add a tiki feel, creating an eclectic aesthetic that gives a nod to the experimental days of the sixties. The Grade II-listed room has been revived with a graphic wooden floor and a centrally located pewter-top bar, which offers additional wicker bar stools. Artwork through the restaurant bar, curated by Antonia Marsh, makes up an exhibition series that will rotate regularly.
More than establishing the bar as a destination in and of itself, the team will be programming monthly events for the public that will see special guests, industry leaders and seasoned experts coming to Neptune for one-night only gatherings. The programme will kick off on Thursday 11th October with a 'Neptune Goes Greek!' dinner, hosted by natural winemaker Jason Ligas alongside a special menu by Chef James Ferguson (St. John, Rochelle Canteen). With the forthcoming line-up of events to be announced in due course, guests can expect some lively evenings.
Brett Redman
In 2006 Brett Redman opened his first restaurant. He set up in a little disused shop on Bethnal Green road, and called it Elliot's, after the street he grew up on in Australia. The food he served was locally sourced and seasonal – with dishes improvised around the best possible ingredients available each day.
Off the back of that success, he opened the Pavilion in Victoria Park in 2007, and then, in 2011, a second, more developed incarnation of Elliot's in the middle of Borough Market. Using only ingredients sourced from the market suppliers around him, Brett won Elliot's a Michelin Bib Gourmand in its first year, and one for every year it's been open thereafter; a total of 8 so far.
With Margaret Crow he then opened The Richmond in 2015, the much-loved neighbourhood restaurant and bar at the intersection of Dalston, Haggerston and London Fields, where he developed a contemporary menu based around his curiosities as a chef and his ongoing commitment to working with ingredients of the highest quality and cleanest provenance. Brett and the team moved The Richmond earlier this year from Hackney to be reinvented as Neptune in Bloomsbury. Brett is also responsible for Jidori, a yakitori restaurant with sites in Dalston and Covent Garden. Heavily inspired by the informal atmosphere of traditional Japanese izakayas, Jidori has been named one of the best Japanese restaurants in London by Vogue magazine and earned 5 stars from Time Out.
Prior to his first venture in London, Brett trained as a chef at some of Sydney's top restaurants including Marque and Four in Hand Bistro.
Margaret Crow
Margaret Crow is from Texas, but she's lived in Hackney for well over a decade. She has made a career for herself as a stylist and fashion consultant – working on staff at magazines like i-D, Love and Vogue, and contributing to various others.
Although she has become known for her unique and vivacious style and outlook, food was her first love. She's always had a passion for eating, and initially had aspirations to become a food writer: her first ever job was as an assistant at the Observer Food Monthly.
Over the last few years, she has found herself driven to find a way to once again make food the centre of her working life and in 2015 launched The Richmond with her long-term friend Brett Redman. The food and atmosphere at The Richmond was an instant hit with the creative crowd in East London. And after much critical acclaim the Richmond is now shifting to a bigger and better incarnation in Bloomsbury under the name 'Neptune.'