1251 Launches Series of Weekly Dinners to Celebrate 'Great British Menu'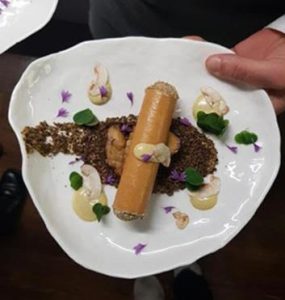 In celebration of being crowned the first-ever 'Champion of Champions' on the latest series of Great British Menu, Chef James Cochran is set to launch a series of weekly dinners at his new restaurant 1251 in Islington starting from Tuesday 6th November that will showcase the standout dishes he presented on the acclaimed BBC programme. Battling through the marathon series, James emerged victorious to represent the London and the South East regional heat, going on to earn his well-deserved spot at the lavish final banquet.
Running for six weeks every Monday and Tuesday evening, the dinners will offer the public a chance to try first-hand the talented young chef's creations as seen on the 2018 series of Great British Menu. As one of the rising stars on the UK's culinary scene, James Cochran won over audiences and judges alike throughout the course of the series with his unique passion, tailored skillset and good-naturedness in the midst of tough competition.
For £75 per person, the special nights will include 1251's signature 'Douglas fir-infused gin and tonic' upon arrival, followed by a 3-course set menu of James' culinary tributes to the NHS, which served as the overarching theme for the series. To start, guests will be able to enjoy the dish that won James his place in the final banquet, the 'Cep-tional' starter with cep brioche, cep custard, savoury soil and truffle mayonnaise. The main course, the chef's signature 'Goat Sharing Board', earned him a lauded 9/10 score on the programme, featuring shoulder, belly, haunch, and shank, served alongside black-eyed pea dahl; coconut rice; roti; cucumber, pineapple and carrot salad; burnt lime & rum dressing; and scotch bonnet jam. The evenings will end on a sweet note with James' 'Tree of life' dessert that he presented in the show's banquet stages – a decadent coconut parfait served with mango purée-filled doughnuts, white chocolate and peanuts.
James' ambitious take on modern British cuisine, which draws from his Michelin-starred training as well as his Scottish and West Indian heritage, reflects in the wider menu at 1251, his latest project that opened in late August in the heart of Islington's buzzing Upper Street. The destination venue welcomes guests from 11am through 11pm every day, serving lunch and dinner with a snacks menu throughout the afternoon, as well as their signature Sunday roasts.