NEW YEAR, NEW MONTY'S – MONTY'S DELI, HOXTON ANNOUNCES NEW ALL DAY MENU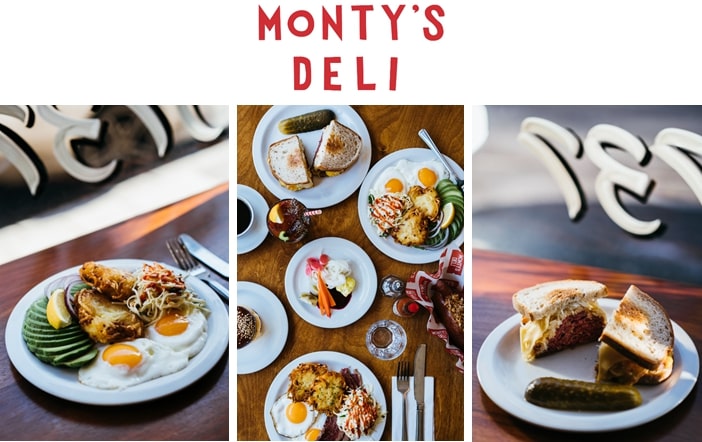 NEW YEAR, NEW MONTY'S – MONTY'S DELI, HOXTON ANNOUNCES NEW ALL DAY MENU
February 2019: Due to popular demand,London's favourite Jewish soul food restaurant, Monty's Deli, have launched a new brunch menu now available all week at their flagship site in Hoxton. Available all day, from Tuesday through to Sunday, the new menu mixes Monty's much-loved signatures and completely new creations, including their first vegan offering. Giving back to the people, Monty's are offering 50% off the new brunch menu on Tuesday 19th and Wednesday 20th February.
As one of the only places in Britain to make their own salt beef and pastrami, the menu will feature Monty's signature sandwiches including 'The Reuben' and 'The Classic' alongside brunch plates of 'Salt beef, coleslaw, eggs and latkes', 'House-cured belly lox, sour cream, rocket salad and latkes' and 'Avocado, eggs, fermented chilli sauce, latkes and rocket salad' as well as their famous 'Chicken soup with kneidlach and lokshen'. Monty's soft oozing 'Egg and cheese challah buns' vie for pride of place (with optional add-ons of hot pastrami or smoked salmon) while the 'Monty's hot dog', a house-made, all-beef smoked frank, served with crispy onions in a hot, toasted challah roll now comes with a double frank option.
For the first time, Monty's goes vegan with the new 'Avocado bagel board' (avocado, sauerkraut, mustard and pickles) alongside the original boards with either smoked salmon (tomato, capers, red onion, cream cheese), pastrami (coleslaw, mustard, pickle) or salt beef (sauerkraut, mustard, pickle). For a sharing option, the 'Cured fish platter' which comes with house-smoked trout and mackerel, smoked salmon, house herring, crudités, pickles and cream cheese (£15/£28) can be enjoyed with a dry martini for an extra fiver.
The drinks menu remains effervescent with New York style; ice-cold Martinis and Manhattans, house Bloody Marys plus a selection of wine, craft beers and lager on tap. The creative range of soft drinks includes the classic 'New York Egg Cream', 'Ice Cream Float' as well as Dr Brown's Soda in root beer, black cherry, cream soda and cel-ray flavours.
The all-day brunch menu is available at Monty's Deli Hoxton from February 2019. Monty's Deli are offering 50% off the brunch menu (food only), on a first come, first serve basis on Tuesday 19th and Wednesday 20th February (between 11am-3pm).
Opening hours:
Tues-Weds: 11am – 5pm
Thurs-Fri: 11am-10pm
Sat: 10am – 10pm
Sun: 11am-5pm

For further information or to make a booking Monty's Deli please visit the website or book directly through their Instagram


About Monty's Deli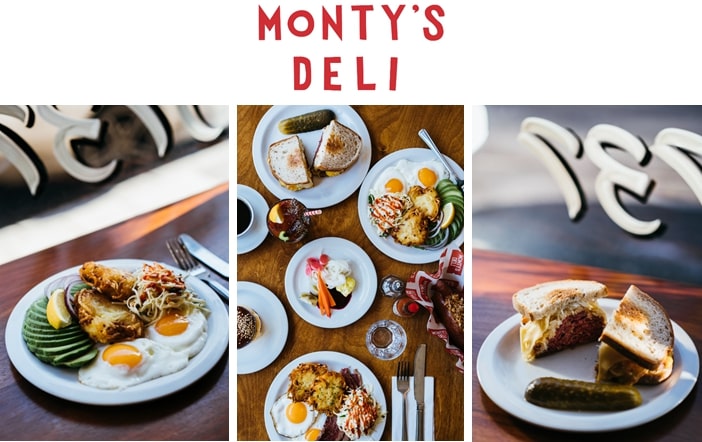 Opening as a market stall in 2012, Monty's Deli is the brainchild of friends Mark Ogus and Owen Barratt and now has three sites: a flagship restaurant in Hoxton and two stands at Old Spitalfields Market and Victoria Halls. Long obsessed with refining the perfect pastrami and salt beef, Mark's towering hand carved towers of meat sandwiches were soon declared by Tom Kerridge, ' the best value lunch in London'. One of the only places in Britain to make their own salt beef and pastrami, Monty's Deli is proud to produce everything by hand. They bake the bagels, they cure the meat, and they make the mustard. They have even developed a rye bread to complement their award-winning sandwiches. Like Katz's in New York, and Langer's in LA, the recipes are closely guarded secrets, and the portions are generous. This is the food Mark was brought up on, food that his grandfather, Monty, introduced him to as a child. Chicken soup with kneidlach, cooked over two days. Salt beef perfected over a week. Monty's Deli is Jewish soul food, made with love.
Facebook @montysdelilondon | Instagram @montys_deli| Twitter @MontysDeli