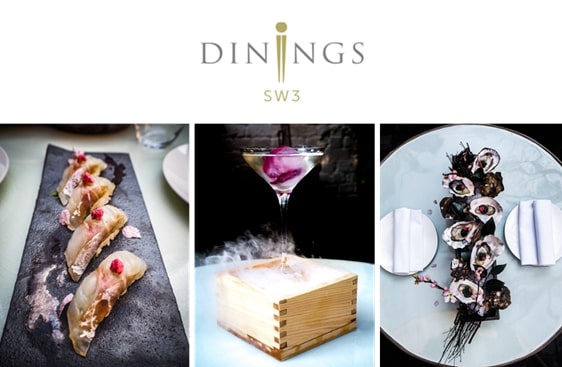 DININGS SW3 CELEBRATES THE JAPANESE CHERRY BLOSSOM SEASON WITH AN EXCLUSIVE SAKURA MENU DESIGNED BY EXECUTIVE CHEF MASAKI SUGISAKI
To celebrate the annual bloom of the Japanese Cherry Blossom, or Sakura, Dinings SW3, the famed Japanese restaurant in the heart of Chelsea will be offering an exclusive Sakura-infused menu curated by Executive Chef Masaki Sugisaki throughout April.
Drawing upon the restaurant's fresh and elegant take on the 'Japanese Izakaya', combining traditional Japanese techniques with modern European cuisine, the menu will showcase contemporary Japanese craftsmanship with an exclusive cocktail and bespoke dishes that encapsulate the restaurants unique fusion and use Sakura to elevate traditional Japanese flavours. Using fresh fish sourced from Cornish day boats and local produce wherever possible, the menu will offer a selection of completely new dishes inspired by the vibrancy of the Sakura itself such as;
Sakura Oyster (£3.90 per piece)
Kumamoto oyster, sakura and yuzu vinaigrette, caviar, pickled shallot
"Tai-meshi" (£20)
Sakura-infused Red Snapper, Kinshi omelette, steamed Rice
"Sakura-jime" sushi (£4.80 per piece)
Sakura-cured Red Snapper, Sakura salt and flower petals
Dessert
Rhubarb and Sakura floating island, Sakura Anglaise, fresh yuzu meringue, shiso leaves gel (£9.50)
Sakura Cheesecake Ice cream (£4.50)
In Japanese culture, the Sakura season represents the ephemeral nature of human existence. Millions of people from all over the world travel to drink, dance and dine beneath the blossom. To honour this, Dinings SW3 has curated an exclusive cocktail for the occasion. The Sakura Martini (£12),a cleverly crafted blend of Ketel one, rhubarb liquor and Sakura essence invites guests to savor the flavors of Japan in the heart of London as the start of spring gets officially underway.
Reservations can be made online at www.dinings.co.uk/sw3/ or via telephone on 020 7723 0666. Please quote Sakura Menu when making your booking.
Address: Lennox Gardens Mews, Chelsea, London SW3 2JH
Instagram: @dinings_sw3