NOW OPEN! Nobu Hotel London Shoreditch and The House of Suntory present Hanami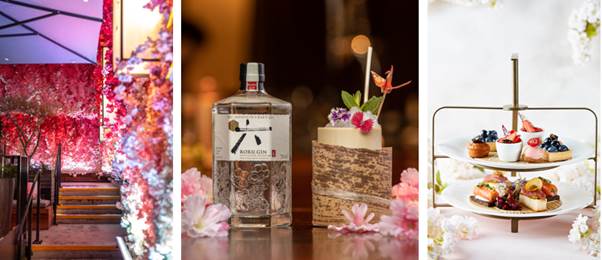 Now Open – The House of Suntory and Nobu Hotel London Shoreditch present Hanami:
A celebration of Japanese craftsmanship and the Sakura bloom
Nobu Hotel London Shoreditch and The House of Suntory have come together this springtime to celebrate the annual bloom of the Japanese Cherry Blossom, orSakura, transforming the terrace into a tranquil escape that incorporates every sense. Now open to the public, Hanami showcases contemporary Japanese craftsmanship with a menu of exclusive cocktails, bespoke dishes and Afternoon Tea.
Inspired by the ancient practice of dining beneath the blossoming Sakura, Hanami brings together the two globally recognised luxury brands in celebration of the artistry of modern Japan at the heart of both companies. In Japanese culture, the Sakura season represents the ephemeral nature of human existence, and millions of people from all over the world travel to drink, dance and dine beneath the blossom. Hanami brings the spirit of this tradition to London, inviting guests to step through London's newest Nobu restaurant into an oasis of calm inspired by Sakura's distinctive pink foliage, with aromatic scent diffusers adding to the sensory experience.
The bar team at Nobu Hotel London Shoreditch, led by Beverage Manager Wilfried Rique, have worked closely with The House of Suntory to create an exciting original menu inspired by their unique range of premium Japanese Craft Spirits –Toki and Chita Whisky, Roku Gin and the newly-launched Haku Vodka. Showcasing a creative range of Japanese ingredients, teas and housemade infusions, the menu of seven bespoke cocktails draws on a range of inspirations and is split into two sections: JAPANESE"MATIC" and HIGHBALLS. Drinks include:
"Gin & Sonic" – Roku Gin, Sonic Water, fresh ginger
Minto – Toki Blend Japanese Whisky, White Crème de Menthe Liqueur, After Eight
Kyoto Sidecar – Chita Grain Whisky infused Green Heart Oolong 2018, Cointreau, yuzu juice
The Sixth Sense – Roku Gin, Green Apple Liqueur, Kinpaku-Iri Gold Flake Sake, Kyuri cucumber
Kinto – Haku Vodka, Old Java Kinto Cold Brew Coffee, Honey and Vanilla Sugar, Soda Water
The menu at Hanami offers a selection of distinctive new dishes inspired by the creativity and vibrancy of the local area, alongside Nobu-Style bar snacks and world class sushi. The menu includes:
Shoreditch Style Fish & Chips
Toro Avocado on Tofu Bun, Matsuhisa Dressing
Chicken and Bacon with Pink Pepper Teriyaki
Steak Tartare Creamy Spicy Yuba
Harumaki Snow Crab Shiso Salsa
Visitors to the terrace also have the opportunity to indulge in an exclusive Sakura-inspired Afternoon Tea menu, offering a unique, Nobu-style twist on the classic British tradition, such as:
Sushi Rice Pudding with Pecan Candies
Yuzu Tart
Tuna Matsuhisa Shokupan
Samurai California Roll
Raspberry Ginger Choux
The House of Suntory presents Hanami at Nobu Hotel London Shoreditch is now open to the public.