Fendi Haute Couture, Colosseo-Rome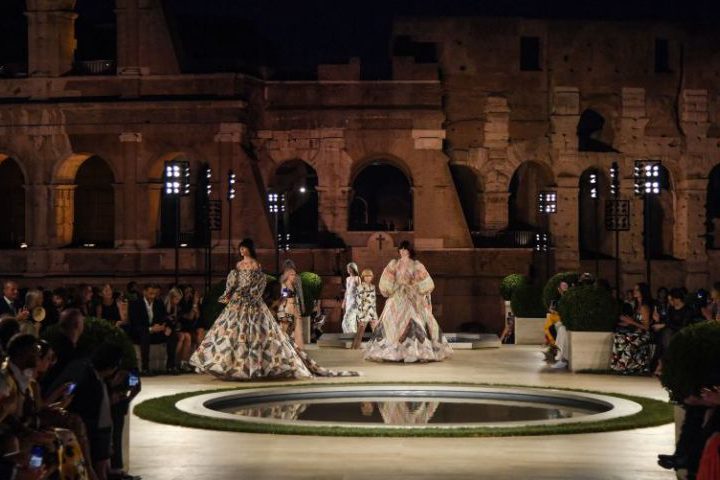 Ciao Roma: Fendi Couture sceglie lo sfondo del Colosseo, tra le sette meraviglie del mondo, per rendere il suo omaggio a Karl Lagerfeld, storico direttore creativo al timone della maison romana per 54 anni.
Dopo la sua scomparsa avvenuta il 19 febbraio 2019, Silvia Venturini Fendi, ha deciso di tributargli non solo Karl for Ever, lo spettacolo al Grand Palais insieme a Chanel, ma anche la sfilata di moda al Colosseo: The Dawn of Romanity si intitola infatti la collezione, fatta di 54 look couture (uno per anno di collaborazione con Lagerfeld) provenienti dall'archivio della griffe, "di cui 21 nuovi, che ho realizzato anche in pelliccia sostenibile, ricavata dalla lavorazione di cachemire e altri materiali. Gli altri sono rimessi a modello, rielaborazioni di pezzi d'archivio", ha spiegato la stessa Venturini Fendi.
Tutto il jet set internazionale, star internazionali, attrici di casa nostra e influencer.
C'erano Daisy Ridley, Catherine Zeta-Jones e la figlia, Susan Sarandon e Kiernan Shipka, la nuova Sabrina Spleman di Chilling Adventures of Sabrina, Zendaya. Lisa Bonet insieme a Jason Momoa, Chiara Ferragni e Fedez, Margherita Buy, Miriam Leone, Sara Serraiocco, Kasia Smutniak, Vittoria Puccini, Valentina Cervi, Alba Rowhacher, Isabella Ferrari.
Suggestiva la scenografia della Fendi Couture, che ha ricreato un giardino all'italiana con alle spalle la vista unica e suggestiva del Colosseo e dei resti di quello che un tempo è stato il tempio più grande della romanità, la città eterna in scena.