NEON PIGEON X DYNASTY FEATURING CHEF JAY MORJARIA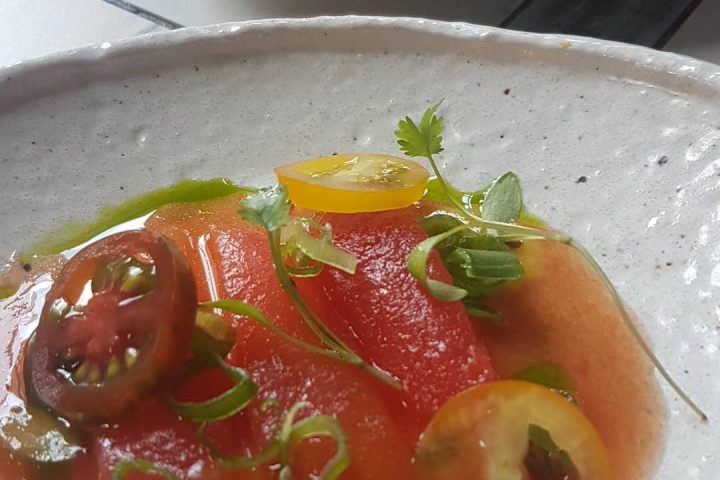 Modern urban izakaya Neon Pigeon, will be presenting a three-night-only collaboration with Chef Jay Morjaria from 16 October to 18 October 2018. Combining the gastronomic arts of Korea and Japan with a focus on plant-forward dishes, guests are in for an unforgettable culinary affair.
Chef Jay's endless creativity and finesse were noticed by producers who went on to feature him on BBC2's new restaurant show, Million Pound Menu, now available to watch on Netflix Worldwide, including Singapore. The critically acclaimed reality show brought Chef Jay's 'plant-forward' East Asian concept into the limelight, with diners loving the unique combinations and flavours on his menu. Be sure to watch the episode featuring Jay and his restaurant "Dynasty" to find out how he did. Dishes featured on the show such as the BBQ Hispi Cabbage with Kimchi Crumb, Miso Goma dressing and Bibimbap Arancini, Nori, Ssamjang Aioli will be showcased along with five other small plates during the pop up for Neon Pigeon's dinner menu.
With a strong passion for creating healthy, globally inspired food, Chef Jay founded Sutra Kitchen, central London's first meat-free cooking school in 2013. Following the success of the school, he published his debut cookbook aptly titled "Share" showcasing a unique collection of uncomplicated, modern and classic recipes, encouraging the home cook to create a dining experience to share with loved ones.
With a dedicated fascination for creating experiential vegetable-centric food that draws inspiration from East Asia, Chef Jay made his way to Korea and Japan for a year to further explore his expertise in these cuisines, which later led to the launch of his Modern Asian brand, Dynasty. Since his return to London, he has worked alongside prominent Chefs and brands including the Korean and Japanese Embassies as well as hosting a series of sold-out supper clubs across London and UK.
The pop up menu will feature seven contemporary dishes with a mix of plant-forward dishes as well as others, such as; the BBQ Hispi Cabbage with Kimchi Crumb in Miso Goma dressing, a beautifully charred cabbage accompanied with Korean favorite Kimchi, bathed in a nutty dressing of miso goma. The Flamed Mackerel with Gochujang/Persimmon sauce is accompanied with Pickled Daikon for a crisp finish. Plant-based dish the Shiso leaf topped with Pickled Asian Mushrooms and Pine Nuts, is an innovative vegetarian dish packed with nutrients but more importantly flavour. The Doengjang Marinated Duck with Charred Sweetcorn, Smoked Miso Butter, Hazelnuts, and Sweetcorn Puree, exhibits Chef Jay's ability to pay respect to the traditional techniques and flavors while highlighting his unique flair. The Bibimbap Arancini with Nori and Ssamjang Aioli effortlessly fuses Italian and Korean flavors together, showcasing Chef Jay's world-class talent. For a sweet finish, savor the Sweet Chestnut filled Mochi Doughnuts with Cinnamon and Coconut. This additive dessert is light with a crispy exterior and full of body from the sweet chestnut filling.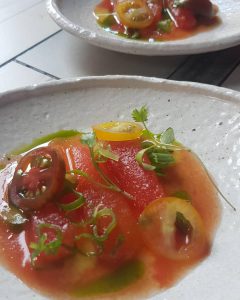 Combining Chef Jay's expertise in Korean cuisine and Neon Pigeon's unique take on Japanese flavors, this exceptional collaboration, is one not to be missed.