SUMMERLONG SERVES UP A NEW DINING MENU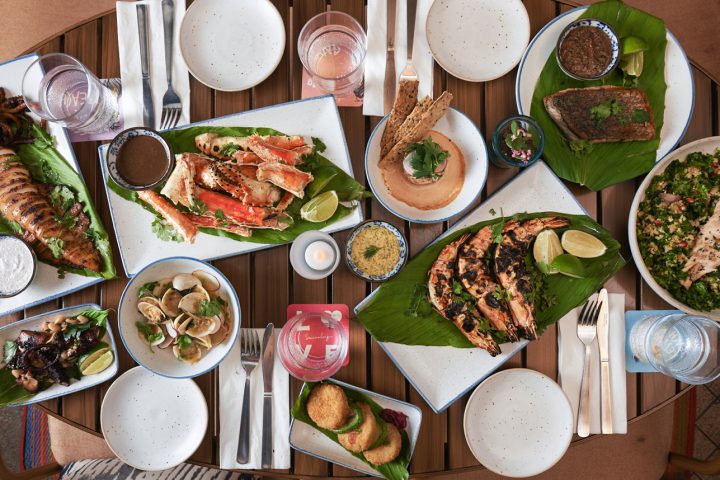 Summerlong, an eastern Mediterranean restaurant and bar known for its beachside vibes, has launched their latest dinner menu. Helmed by Chef Kyle Henderson, this menu celebrates the Mediterranean way of dining – featuring simple yet flavourful dishes made from scratch and enjoyed in a convivial, family-style setting. The new menu combined with the relaxed vibes of Summerlong is the ideal spot for guests to unwind as the sun sets by the river.
Head Chef Kyle Henderson explains, "Food should not be too complicated. I believe in respecting the ingredients I work with and allowing them to shine. By incorporating techniques like grilling, I am able to hero the ingredient – enhancing its natural flavours while keeping it simple and fresh".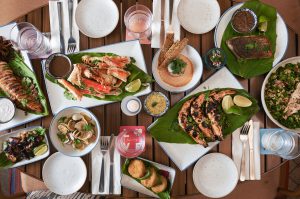 The thoughtfully curated menu is divided into nine distinctive sections; Barbecued Seafood, Big Salads, Kebabs & Breads, Mezze from the Sea, Cold Mezze, Warm Mezze, Hummus, Other Mains and Sides.
Mezze
Whether a party of twenty of a party of two, guests are encouraged to order a selection of cold and hot mezze. Each dish showcases the freshest and highest quality ingredients which combine flavourful herbs and spices to appease broad-based palates.
The Market Ceviche (S$19++) features Summerlong's fresh catch-of-the-day – thick chunks of fresh fish are marinated in a lemon, lime, harissa vinaigrette and served with sesame lavosh crackers for a crunchy accompaniment. Only the freshest seafood available is used, and guests can expect to see the likes of Barramundi to appear frequently.
(Above L-R: Market Ceviche from Mezze From The Sea; Crab Cakes from Warm Mezze)
Another highlight from the Mezze from the Sea section is the Chilled Ponzu Clams (S$18++). Australian clams are first sautéed with green chilli, garlic and white wine. They are then chilled and tossed in an aromatic citrus dressing for the ultimate fusion of flavours.
The Warm Mezzes are light yet packed with flavour. One notable dish that reflects this approach is the crisp yet tender Crab Cakes (S$28++). Generously packed with crab meat, hand-formed and fried, this dish is served alongside a fresh helping of avocado and dill aioli. Other specialties from this section include; Corn Fritters (S$17++), Spinach & Feta Pastry (S$17++), Calamari & Zucchini (S$22++), Baby Eggplant (S$16++) and Israeli Lamb Pita (S$19++).
Barbecued
With an emphasis on showcasing fresh produce in all its glory, the Barbecued Seafood section will transport guests to the coastal regions of the Mediterranean without leaving the city. All Barbecued dishes come with a generous helping of a homemade sauce. Options include Harissa, Black Pepper & Garlic Sauce, Sumac Yoghurt and Seaweed Butter.
A standout dish is the Whole Squid (S$28++), which is perfectly grilled over charcoal for a light smoky char on the outside. The smokiness of the squid is elevated by a generous dusting of Turkish spices, paprika and chilli powder, delicately balanced by a tangy squeeze of lime. Another crowd pleaser is the King Prawns (S$48++), which are lightly seasoned and char-grilled, then served simply alongside lime wedges and coriander to bring out the best in this humble crustacean. These gigantic, juicy and lightly charred prawns are ideal to share with friends or family.
For guests who prefer hands-on dishes, try the Alaskan King Crab, 300g (S$75++). Premium Alaskan King crab is lightly seasoned and grilled to order, resulting in sweet and succulent meat that is full of flavour. Accompanied by a choice of sauce, this dish is an indulgent yet light treat where a single serving is great for sharing.
Featured sides that perfectly compliment the mains include the likes of Harra Fries (S$10++), Broccoli with garlic (S$12++), Soft Polenta with mushroom and parmesan (S$12++) and Sautéed Kale with seaweed butter (S$12++).
A relaxing venue to soak in the Mediterranean beach vibes, Summerlong is the perfect place to unwind over a flavourful meal, while exchanging great banter with friends and family. For reservations, please call +65 6235 1225 or email info@summerlongsg.com
— END –