World of Nobu returns to Nobu Hotel London Shoreditch 23rd and 24th November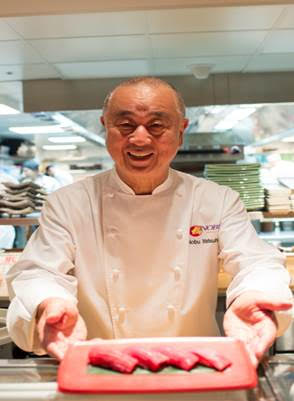 Nobu Hotel London Shoreditch is pleased to announce the return of the 'World of Nobu' festival on Friday 23rd and Saturday 24th November for a second year. The two days of signature events will be curated by Chef Nobu Matsuhisa and his team of Executive Chefs from around the globe.
Following on from the success of the inaugural European 'World of Nobu' event in 2017, this year will celebrate the release of Chef Nobu's final cookbook, aptly titled 'World of Nobu' and featuring a compilation of Chef Nobu' s signature recipes that have spearheaded Nobu Restaurants to become a household name .
Over two days of events, ticketholders will be given exclusive access to Chef Nobu and his team from around the world during the Nobu Food Festival on 23rd November and Omakase Tasting Menu Dinner on 24th November.
– Nobu Food Festival – On Friday 23rd November, Chef Nobu Matsuhisa invites Londoners to join him on a culinary journey showcasing exclusive recipes from thirteen of his executive chefs from around the world celebrating the release of his 8th and final cookbook, 'World of Nobu'.
– Omakase Tasting Menu – On Saturday 24th November, guests are invited to join Chef Nobu Matsuhisa and his chefs from around the globe for an exclusive 7-course Omakase tasting menu. Guests will be welcomed with a champagne reception followed by a sit down tasting menu plus receive a signed copy of Chef Nobu Matsuhisa's final cookbook, 'World of Nobu' to take away.
Chefs will be attending from a number of Nobu restaurant locations including Milan, Monte Carlo, Marbella, Barcelona, The Bahamas and Doha as well as Nobu London and Nobu Berkeley Square.
Additional hotel and restaurant openings on the horizon for 2019 include Barcelona, Tel Aviv, Chicago, Toronto, Los Carlos, Saint Paulo, Bahrain, Atlanta and Riyadh.
To book any of the World of Nobu events, tickets can be purchased online through the Nobu website HERE or via Eventbrite HERE.
Tickets are priced as follows: Nobu Food Festival – £45 (welcome drink and 12 taster dishes), £60 (4 drinks and 12 taster dishes) and £100 (4 drinks, 12 taster dishes and signed World of Nobu cookbook); Omakase Tasting Menu – £120 (champagne welcome drink, cocktail, 7 course Omakase menu and a signed 'World of Nobu' cookbook).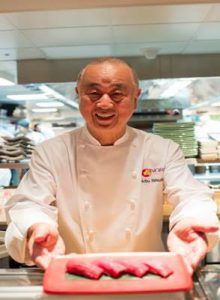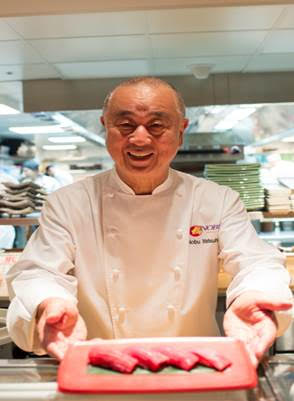 About Nobu Hotel London Shoreditch:
Set back from the lively hub of Great Eastern Street, Nobu Hotel London Shoreditch offers a dynamic blend of Nobu's signature east-meets-west philosophy and Shoreditch's creative and industrial energy. As well as an exclusive spa and fitness area, guests can take advantage of a series of innovative culinary experiences, available in London's newest Nobu restaurant, the lobby bar, meeting space and in-room dining.
About Nobu Hospitality:
Named one of luxury's 25 Most Innovative Brands by Robb Report, Nobu Hospitality is ranked among an elite selection of global luxury brands. The natural growth of Nobu Hospitality, built on service, image, and reputation, offers the complete spectrum of hotel, restaurant and residence management for unique projects around the world. Founded by Nobu Matsuhisa, Robert De Niro and Meir Teper, with operations spanning five continents, the Nobu brand thrives in the world's capitals as the ultimate destination lifestyle experience. Nobu Hotels have been awarded an array of accolades, including Hottest New Hotels by CNN Travel, Wallpaper Best Urban Hotel, Top North America Hotel Opening by Luxury Travel Advisor, and Luxury Travel Advisor's Award of Excellence. The first Nobu Hotel opened in 2013 as a boutique hotel within Caesars Palace Las Vegas, Nobu Hotel City of Dreams Manila opened in 2014, Nobu Hotel Miami Beach in 2016 and the Nobu Ryokan Malibu, Nobu Hotel London Shoreditch, Nobu Hotel Ibiza Bay and Nobu Hotel Palo Alto opened in 2017 and Nobu Hotel Marbella opened in 2018. Nobu Hotels are in development for Barcelona, Riyadh, Los Cabos, Chicago, Toronto, São Paulo, Atlanta and Tel Aviv. Nobu is strategically focused on further expanding its global portfolio of hotels through a solid development pipeline. www.nobuhospitality.com. Follow us on Instagram @NobuHotels
About Nobu Restaurants:
Nobu, the iconic Japanese restaurant empire founded by partners Nobu Matsuhisa, Robert De Niro and Meir Teper has expanded to include more than 30 restaurants around the world together with a stunning new collection of Nobu Hotels. Nobu continues to attract fans worldwide for its enduring atmosphere and continuous reinvention of genre-defining cuisine. Additional restaurant openings on the horizon for 2017 include Nobu Houston, Nobu Palo Alto and Nobu Washington DC with planned hotels in Los Cabos, Marbella, Toronto, and other
thrilling destinations around the globe. Learn more at noburestaurants.com and follow @NobuWorldwide on Instagram and Twitter.