FAT PRINCE LANCIA NUOVA VETRINA MENU SOSTENIBILE Stagionale, KEBABS INGREDIENTI A MOTORE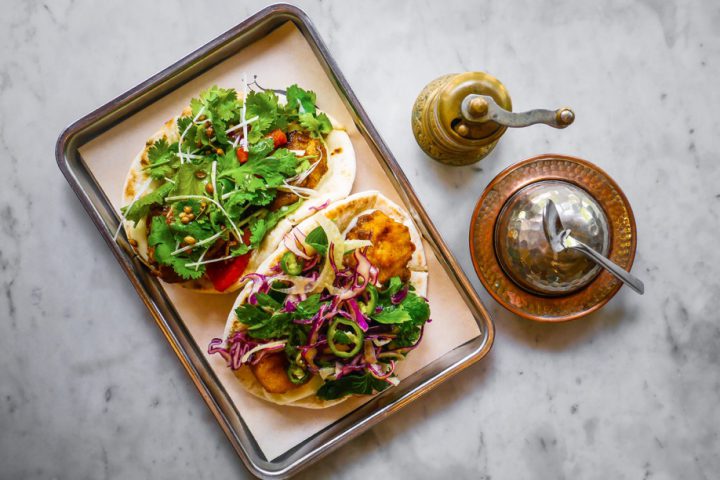 Gourmet kebabery, Fat Prince, is dedicated to serving Middle Eastern inspired kebabs with a unique and modern Fat Prince twist. These seasonal and ingredient-driven morsels are not only fresh and vibrant but also big on flavour. For this new menu, Head Chef Beau Churchill has channelled the best, most local produce from the region and combined them with wood-fired flavours of the Middle East. From bread to toum and garnishes, dishes are made from scratch in-house using the freshest produce that is available.
Chef Beau explains, "We use local, sustainable ingredients because as a Chef, and a human, it is our duty to think and act responsibly and to help produce a better future. As a Chef, I have the ability to help create the demand to better our planet by utilising and educating on the use of local, organic and sustainable ingredients. For that, I am lucky. Local is always better."
The menu is divided into three distinctive categories; Mezze & Salads, Kebabs and Desserts. Kick off with the decidedly almighty Pumpkin Seed Acuka $S12++ that packs quite the punch. Comprising of smoked peppers and dried Turkish chili pepper – isot biber – this bold dip is served alongside warm, soft, pillowy pita. Be sure not to miss the Cashew Hummus $S12++ made up of roasted cashew gremolata for a rich, creamy, comforting start to your meal.
While still maintaining its variety of signature kebabs, the Istanbul inspired café has introduced some bold new items to the menu that are sure to tantalise your taste buds. An undoubted star is the Shish Tawook Chicken Kebab (S$8++). A take on a classic Lebanese dish, the smoky meat is served with charred capsicum, coriander and toum for a fresh, herby finish.
For those guests who prefer a lighter, yet wholesome dish, try the Avocado & Kale Tabbouleh (S$15++), which showcases Fat Prince's dedication to sourcing locally. Inspired by the traditional tabbouleh salad, this refreshing salad comprises of bulgur wheat, herbs and a zesty cured lemon vinaigrette. All the vegetables and herbs are from two independent farms, one based locally and the other in Cameron Highlands. Both farms produce the freshest food crop that is both nutritious and healthy.
Pastry Chef Fara Yakub puts forth two desserts for the new menu, the Halva Pudding (S$10++) and the Orange Blossom Cake (S$10++). A pleasurable combination of sweet and tartness, the former contains a pistachio streusel and fresh oranges, whilst the latter contains semolina, sweetened labneh and house ice cream.