Beck at Brown's AperiTEAvo Menu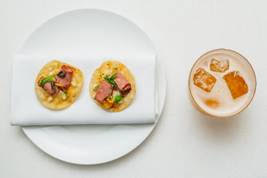 Tea drinking, a signature British pastime has been enjoyed with acute etiquette for more than 300 years. Building on the rich history of Brown's Hotel and celebrating this quintessential 300 age-old custom, Beck at Brown's has collaborated with Lalani & Co to introduce a contemporary twist on Britain's renowned love for tea.
The new AperiTEAvo menu features fine tea and tea-infused cocktails alongside a selection of delectable dishes. Lalani & Co's exclusive single batch teas are handpicked and harvested at 6000ft in Jun Chiyabari Garden, Nepal to leaves milled by stone in Japan. Guests are invited to enjoy the single batches alone or theatrically incorporated into refined cocktails including Mr Brown's Old Fashioned, a classic reinvented, with Kyoto Oolong infused Cognac Frapin or the Nitro-green cocktail, reflecting the vibrancy of the green tea field landscape in Japan, a velvety cocktail infused with Nitro, Matcha and Dry Vermouth, served smooth, over ice.
Each drink is intricately paired with an AperiTEAvo, designed by Executive Head Chef Heros De Agostinis and his inspirational team; each dish is created using seasonal ingredients to complement the distinctive flavour of the tea ensuring a unique gastronomic experience. The three-course menu (also available in a vegetarian option) is designed to ignite taste buds and stimulate senses; the AperiTEAvo menu features the following dishes:
Rock Oyster with blackberry, hibiscus tea jelly and beetroot cream
Paired with:
Himalayan Imperial Black Autumn 2017, Jun Chiyabari Garden Hile Nepal Batch J189
Or
Imperial Side Car: Himalayan Imperial Black infused Cognac Frapin, Bitter, Cointreau, lemon juice
Tacos with apple and smoked duck
Paired with:
Kyoto Oolong 2017, Nakai-San Gardens, Kyoto Micro Batch 170706 20kg
Or
Mr Brown's Old Fashioned: Kyoto Oolong infused Cognac Frapin, Bitter and cane sugar syrup
Or
Mrs Brown's Classic Champagne Cocktail: Kyoto Oolong infused Cognac Frapin, Bitter, cane sugar
syrup and Champagne
Brik pastry tartelettes with smoked salmon and potato horseradish salad
Paired with:
Lalani & Co Organic Matcha Green Velvet
Or
Nitro-green: Nitro Matcha, Drouin Calvados Selection and Dry Vermouth served over ice
Located in the heart of Mayfair, this interactive, theatrical tea pairing experience is perfect for a pre-theatre dinner before the curtain goes up or a late night bite.
The AperiTEAvo menu is priced at £45 per person (alcoholic option) or £30 per person (non-alcoholic option) and available in Beck at Brown's from 3pm – 6pm Monday to Friday.