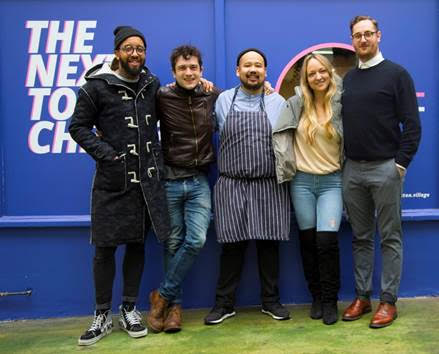 Brixton Village has today announced the two winners of the Brixton Kitchen competition and mentorship programme to find the next big talent in food, who have each been awarded six-month residences in London's most diverse and vibrant market.
Ferdinand 'Budgie' Montoya, winner of the experienced category, will bring the popular Filipino supper club Sarap to Brixton Village for its first stand-alone site, while amateur winner Adejoké 'Joké' Bakare will introduce her West African concept Chishuru to the public for the first time with a weekend pop-up.
Encouraging local innovation and championing the culinary diversity and creativity of Brixton, Brixton Kitchen was established to nurture home-grown talent and offer the chance for promising entrepreneurs and complete novices to see their ideas come to fruition. The resulting two winners were handpicked from hundreds of applicants that ranged from passionate home cooks to active street food stalls, supper club organizers and budding food start-ups.
Making it through several weeks of spirited competition, Budgie and Joké successfully came out on top to impress upon the judging panel their outstanding culinary capabilities and innovative visions. The competition's mentoring team includes co-founder and head chef of 1251, and the 'Champion of Champions' on BBC's Great British Menu 2018, James Cochran;chef and restaurateur of Brunswick House, St Leonards and Orasay Jackson Boxer; and baker, food stylist and author Claire Ptak of Violet Cakes, who created the wedding cake for Prince Harry and Meghan Markle.
Winner of the experienced category, Budgie Montoya brought to the competition a taste of his Filipino supper club Sarap, which most recently wrapped up a successful pop-up at The Sun & 13 Cantons in Soho. With an aim to put Filipino food on London's culinary map and carve out an identity for the yet to be discovered cuisine of his homeland, Budgie proved to the judges his readiness to take Sarap to the next level as a full-time business in Brixton's culinary melting pot.
Winner of the amateur category, Joké Bakare showcased a mature, innovative take on West African cuisine aimed for a wider audience. Her concept, Chishuru, serves to highlight lesser-known cuisine of the region using modern techniques, and through it she proves a deep desire to preserve the heart of her region's food whilst making it more accessible to people unfamiliar with its unique spices and ingredients.
There will be numerous exciting opportunities for the public to sample food from Sarap and Chishuru as they prepare to establish their roots in Brixton Village. More than being offered a six-month residency in the market, each winner will have created for them a tailor-made mentorship programme that will play to their individual strengths while helping them develop and refine the necessary skills to create and maintain a successful business. The judges will be on hand throughout to support the winners, helping put their ideas into practice to build a long-term impactful presence in Brixton. Workshops will be open to the public where possible so that all interested parties can benefit from the expertise offered.
The honorary runners-up in the competition included the brilliant young prospect Ruben Dawnay of sandwich concept 'Ruben's Reuben' and talented duo William and Jack, behind small plates pop-up 'Fallow'.
Alistair Maddox, Director of Brixton Village & Market Row at Hondo Enterprises, said: "We are extremely excited to develop this next stage of Brixton Kitchen, not just with our brilliant winners Budgie and Joké but with all those interested in bringing together the community through food and entrepreneurship. With such public-facing initiatives and mentorship programmes, we aim to grow Brixton Kitchen into an umbrella resource through which the market can support culinary innovation, encourage homegrown talent and create invaluable experiences for both locals and visitors alike."
Ferdinand 'Budgie' Montoya of Sarap, Winner of the Experienced Category, said: "I feel incredibly blessed and humbled by winning Brixton Kitchen. The amount of support I received throughout the competition was more than I could have ever imagined. I entered the competition in the hopes to find a permanent home for Sarap; Brixton for me has always been a place where the minority matters, and Filipino cuisine undoubtedly fits into that category so it really felt like the perfect fit for our concept. I'm extremely excited to work with the Brixton Village and Hondo team to take Sarap to the next stage."
Adejoké 'Joké' Bakare of Chishuru, Winner of the Amateur Category, said: "Winning for me was a major step towards fulfilling my dream of introducing my vision of West African cuisine to the London food scene. The feedback Chishuru has received so far has been wonderful. I'm so glad to be able to bring pleasure with my food, and introduce the cuisine of our region to more people. I'm grateful to be given the opportunity to pursue this path, and very much looking forward to working with Brixton Village and the support of Hondo."
Co-founder and head chef of 1251 James Cochran said: "It's been a privilege to have had the opportunity to work with Brixton Village and mentor this next generation of restaurateurs. Joké gave us a brilliant take on West African food that not many have seen before, drawing up her family's traditions in a new and innovative way. Budgie has carved a niche for himself: Filipino food has yet to become a trend in London, and I believe the amazing interest that Sarap has already received from its pop-ups will continue to grow to new heights with our support and their first stand-alone site."
Chef and restaurateur of Brunswick House, St Leonards and Orasay, Jackson Boxer, said:"From the moment I met Joké, I found her completely compelling as a cook and host, and moreover so knowledgeable about the fascinating diversity of African cuisines. Her food is absolutely beautiful – considered, delicious, and utterly her own. I cannot wait to help her bring her cooking to a much greater audience, and can't think of a finer place than Brixton to welcome her. Budgie is similarly a great cook, a killer chef, and a wonderful person. He has achieved an enormous amount of success and recognition for Sarap, and I have no doubt he will stand out in Brixton Village with his uniqueness among the already exemplary diversity of voices and flavours. I love his food and can't wait to eat more of it when I come down on my weekly shopping trips with the kids."
Claire Ptak of Violet Cakes said:"Budgie has proven that he knows how to run a business through his successful pop-ups, which have gathered an amazing following. We're really looking forward to supporting his vision and helping him grow his business into a stand-alone destination here in Brixton Village. Joké is also making incredible food that is worth travelling for. She's incredibly knowledgeable about West African cuisine: more than just taking cues from her family, she is keen, curious and has a discerning palate. It's really exciting to be able to support her through Brixton Kitchen for more people to know how delicious this cooking can be."