Bounce to Cirque du Soul for a Mega Ping Pong Party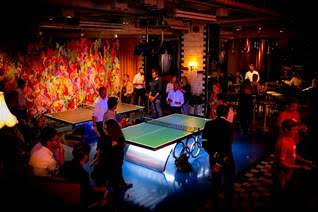 21st September 2018 – To celebrate their recent big facelift, the game-changing Home of Ping Pong, Bounce Farringdon have teamed up with the mind-blowing party people at Cirque du Soul to throw one hell of a ping pong party on Saturday 29th September.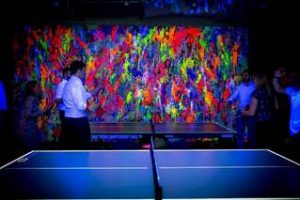 For just £10 each (including a drink), the Cirque guys will be playing their intoxicating mix of R&B, soul, hip hop, funk and disco, plus there'll be a glitter station, giant swing, selfie mirror, confetti cannons, and bubble machines! This is the stuff of Instagram dreams… PLUS the generous ping pong people are giving guests freeplay Ping Pong ALL night long (all niiight). The legendary Games Gurus will be on hand to get players stuck in to the action – with games of ping pong basketball, interactive killer and around the world, with up to 40 players playing around the table at once.
For those totally out of the know, Cirque du Soul is the UK's travelling collective of DJ's, colour, magic and dance known for throwing the most vibrant parties in the land – think Moulin Rouge of the 21st Century.. Burlesque meets bass. Cirque du Soul invade the most quirky hideouts in selected cities every month and this month, it's Bounce! The air will be soaked with the freshest collection of beats this side of Chicago. Previous artists have included Groove Armada, Shy FX and Jungle so expect the tunes to be big and the party even bigger!
With design by Russell Sage studio, the all-new Bounce is more spectacular than ever, taking the humble game of Ping Pong and transforming it into a ground breaking, immersive adventure. With a fresh hangout area to relax in and work up your pre-game spirit, as well as an all-new DJ booth and dance floor to take to (with the sounds of Cirque du Soul on hand to help) Bounce Farringdon is a feast for the eyes, as well as the senses.
On top of the interior overhaul, a brand-new experiential cocktail range will redefine the norm, including Bounce's revolutionary CollaGIN anti-ageing Gin & Tonic with actual collagen, zero carbs and zero sugar which – allegedly – means you can make yourselves look younger and lose weight whilst drinking all of the G&T's your heart desires. An ultra-social new food menu will bring an extra hit of flavour to your table, with dishes like Lobster Tacos, home baked Chubby Chips and Mojito Cake Pops encouraging sharing for any and all group sizes, pre, during or post Ping Pong.
Tickets for the Cirque du Soul Ping Pong Party at Bounce Farringdon are available now and can be purchased HERE.
Bounce Farringdon
121 Holborn
London, EC1N 2TD
Opening Hours: Monday to Wednesday: 4pm to 12pm | Thursday: 4pm to 1am | Friday & Saturday: 12pm to 1am | Sunday: 12pm to 11pm
Reservations can be made online at bouncepingpong.com or by calling 020 3657 6525
Follow Bounce on Instagram or Twitter
– Ends –
Notes to Editors
About Bounce
Since its launch in 2012, the Bounce concept has been widely regarded by the industry as a game-changer in social entertainment venues, which combines three elements of hospitality: bar, restaurant and entertainment activity – all set against award-winning design and the highest standard of fit out. Bounce is the world's leading concept to offer this immersive experience, taking the humble Ping Pong table from the back corner of a bar to become the main offering of the venue, while creating an intricately considered and currently unrivalled leisure experience. Bounce currently has two venues in London and one in Chicago.
About Adam Breeden, Founder
In 2006, Adam co-founded All Star Lanes, a luxury bowling venue fused with a food and drink offering boasting an incomparable level of quality, rolling out multiple successful UK venues before moving on to unveil ping pong sensation Bounce, with business partner Dov Penzik, launching the first and flagship site in London's Farringdon in October 2012. Adam went on to launch a second Bounce site in 2015, right in the center of the booming hipster mecca of Shoreditch, near Old Street station. In the same year he joined forces with Steve Moore and Paul Barham to launch the revolutionary 'social darts' concept Flight Club. In the summer of 2016, Adam took business across the pond and opened his first international location in Chicago, USA with AceBounce. In 2017, the parent company of Bounce, was renamed Social Entertainment Ventures Ltd, as part of a huge expansion plan by Adam to open 20 new venues across the UK and globally by 2020.