CÉ LA VI PRESENTS CROSSFADE FEAT. FEDDE LE GRAND (16 Oct 2018)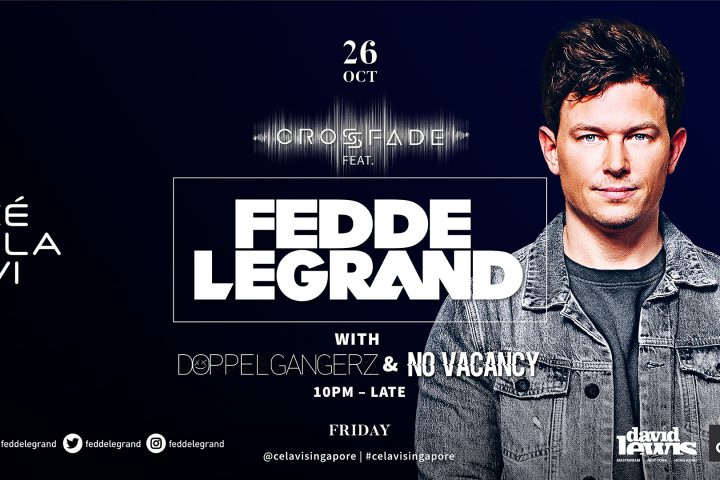 CÉ LA VI PRESENTS CROSSFADE FEAT.
FEDDE LE GRAND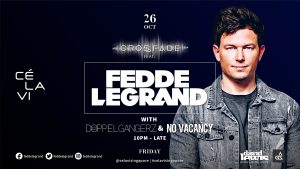 CEì LA VI enlivens Singapore's nightlife scene with its original House music series – Crossfade. From classic to progressive, percussive to electronic, Crossfade invites prominent innovators of House music for a night dedicated to unearthing quality four-by-four grooves. This October, CEì LA VI presents Crossfade feat. Fedde Le Grand, who is recognized around the globe as one of the single most defining figures in the electronic music scene.
Who is Fedde Le Grand:
Dutch House DJ and producer Fedde Le Grand has been acknowledged as one of the Top 30 most influential artists and has appeared for almost a decade on the prestigious DJ Mag Top 100. A pioneer of electronica, Fedde Le Grand's influence can be felt throughout the electronic landscape.
When it comes to solo records 'Put Your Hands Up For Detroit' brought him global attention, but tracks like 'The Creeps', 'Let Me Think About It', '3 Minutes To Explain', 'Back & Forth', 'Control Room', 'Metrum', 'So Much Love', and 'Sparks (Turn Off Your Mind)', showcased him as a versatile powerhouse in the global Dance music industry. Fedde Le Grand is also known for his renowned remixes of prominent artists such as Coldplay, Madonna, will.i.am, Robbie Williams, Fatboy Slim, Shakira, Rihanna, Mariah Carey, and his all-time musical inspiration Michael Jackson.
Millions have witnessed his show-stopping live-sets that explode with ingenuity and originality. Fedde Le Grand is also a consistent headliner at the world's biggest music festivals such as Coachella, Ultra Music Festival, Tomorrowland, Exit Festival, Global Gathering, Creamfields, Electric Zoo, Sziget, Mysteryland, EDC, Future Music, SW4, Airbeat One, an unparalleled number of Sensations, with the list of venues continuing to grow.
When: Friday, 26 October 2018 | 10 pm till Late.
Where: CEì LA VI Club Lounge, 1 Bayfront Avenue, Marina Bay Sands Tower 3, 018971
Additional Information: Pre-sale tickets: $28 includes a glass of premium pour here
At-the-Door tickets: $38 includes a glass of premium pour
About CÉ LA VI Singapore
At CEì LA VI, we aim to stimulate the senses and fuel the spirit. Iconic rooftop locations that command breathtaking 360-degree views. Modern Asian culinary adventures in a spectacular setting. Innovative cocktails perfectly matched to Asian climates, laced with exotic regional ingredients and flavors. Evenings of legendary nightlife that continue on till dawn. This is CÉ LA VI.